It's been a great day for ZenART VR. Scratch that, it's been an EPIC day!
In this blog post, we're happy to share an amazing piece of news – ZenART VR is officially an Epic MegaGrants recipient!
Epic Games is a legendary gaming company known for many hit games including Fortnite and the maker of Unreal Engine, the tool we use to bring our high-detail VR world to life.
Epic has had an astonishing success and, unlike many other AAA companies, is constantly giving back to the community and supporting smaller developers.
Starting somewhere in 2015 and running all the way to March 2019, Epic ran a program dubbed the Unreal Dev Grants, providing a total of $5,000,000 of funding to game makers to help them complete their dream projects. If you thought that was impressive, get this: last year they scrapped the program in favor of the Epic MegaGrants, bumping the financial support pool to $100 million. Now that's what we call mega!
In their own words:
"Epic Games has committed $100 million to support game developers, enterprise professionals, media and entertainment creators, students, educators, and tool developers doing amazing things with Unreal Engine or enhancing open-source capabilities for the 3D graphics community."
The program is not strictly aimed at gaming studios, but also encourages technological advancement and success in the Media & Entertainment, Enterprise, Education and Tool & Open Source industries.
Wait a second. Media, enterprise, education, innovative 3D tech… these are all things that describe ZenART VR!
And Epic Games seems to agree because we were granted one of these: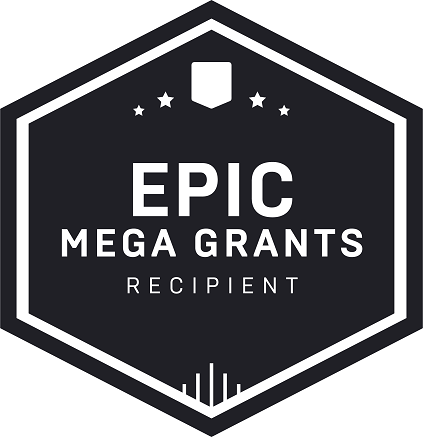 The process was tough. We reached out to Epic back in late summer 2019 and provided them with a playable demo of our product. They had a lot of contenders to sift through – hundreds, if not thousands! Our tech must have really impressed them because they decided to back us up!
Needless to say, the ZenART VR team is extremely proud and grateful to be a recipient in such a nice initiative – you should have seen the face of our gameplay developer, who's an outright Epic Games fanboy! But to paraphrase a friendly local superhero, "With great grants comes great responsibility." The team will do their best to put this funding to good use!
With epic news like this, we can't wait to bring you the next entry in this blog post series and report our progress. Until then, feel free to get in touch via our social media channels.
Talk to you soon!
(Image credit: Epic Games)