That's right, the first ZenART product is entering Steam Early Access sooner than expected!
Mark your calendars, because the launch of Zen Universe is scheduled for May 13, 2020!
You've read the news. The global COVID-19 outbreak is much worse than anybody could have anticipated, affecting the daily lives of pretty much everyone in the world. Delays, cancelations, and layoffs across all industries are disrupting the economy, and the mortality rate in hospitals everywhere continues to grow tragically.
Now is more important than ever for every single one of us to do our part. Staying home, working remotely, and maintaining social distancing could be the difference between life and death. This fight is not just for doctors and researchers, but for everyone to fight.
The ZenART team thought about what we could do to contribute to the efforts against the disease and we opted to release our product much earlier than planned. This way you guys can remain indoors and still be able to travel a bit and explore exotic locations – something we're missing now more than ever. You'll be able to experience the first two worlds in Zen Universe in less than two weeks.
For the Health institutions and Elderly homes out there, please get in touch with us, we will provide you copies for free. We want to make the world a better place for everyone.
As for the folks at home – while you wait, you can check out the Steam page and wishlist Zen Universe right now.
The May 13 launch will contain a pair of locations – Tales of the Rocks and Olympus: Home of the Gods. The first is based on the Belogradchik Rocks and fortress in modern-day Bulgaria with its rich history and stunning natural beauty. The second is a mythical journey in the palace of Zeus on a quest for knowledge, based on photogrammetric capture of ancient Greek temples.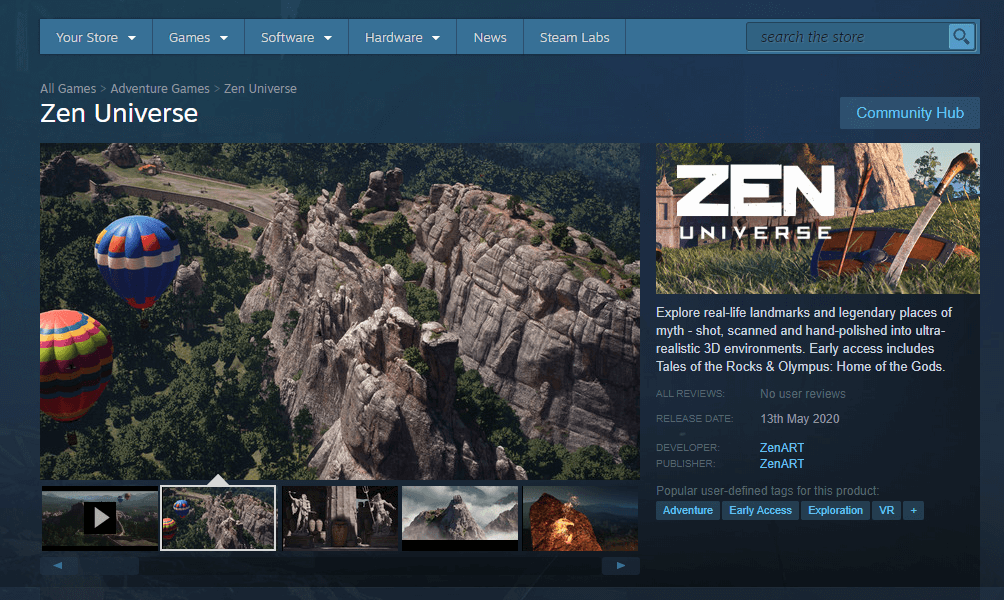 Normally, one of these locations is priced at $19.99 and the complete bundle of 4 costs $59.99.
However, to celebrate our Early Access release, you'll be able to get a pack with the two experiences at the reduced cost of $29.99, and the bundle will be upgraded to feature all 4 locations for free as soon as we release them!
The Steam Early Access model has one huge added benefit. The fact that we're releasing early means that the feedback and bug reports sent by our early adopters will immediately make their way to the development process. Your preferences, observations, and ideas will shape both the final versions of Tales of the Rocks and Olympus: Home of the Gods, as well as the upcoming experiences we're working on.
You can find more info on the Steam Early Access page HERE and add Zen Universe to your wishlist to be notified at release.
We are very much looking forward to hearing from you. If you have any questions, ideas, or feedback, do not hesitate to get in touch via the Contacts section of this website or over social media.
See you guys in Zen Universe on May 13! Until then, keep doing your part, stay home, and stay safe!