Virtual reality has the potential to endlessly stretch our world in directions and dimensions we've never even imagined. There are still limits, however, to what we can do with a headset on and one of these constraints is movement. Recently, we partnered up with Cybershoes – an affordable and innovative accessory that allows you to literally walk through VR, navigating the paths of your favorite games using your feet rather than your hands. Today's article will focus on Cybershoes and how they improve your VR experience. This is in no way a paid advertisement or PR. We just tried the product and we liked it. It makes sense.
How to Cyberwalk?
Slip on the Cybershoes over your regular shoes and strap them to your feet. It's very similar to how you would secure a snowboard. This design enables the game to pick up all your exact foot movement (which is what was bound to happen in VR at some point). And since these are not actual shoes but something you put over your existing footwear, size is not an issue as one fits all. After the Cybershoes are safely strapped onto your feet, you sit in a comfortable swivel bar stool from where you'll be living your VR adventure.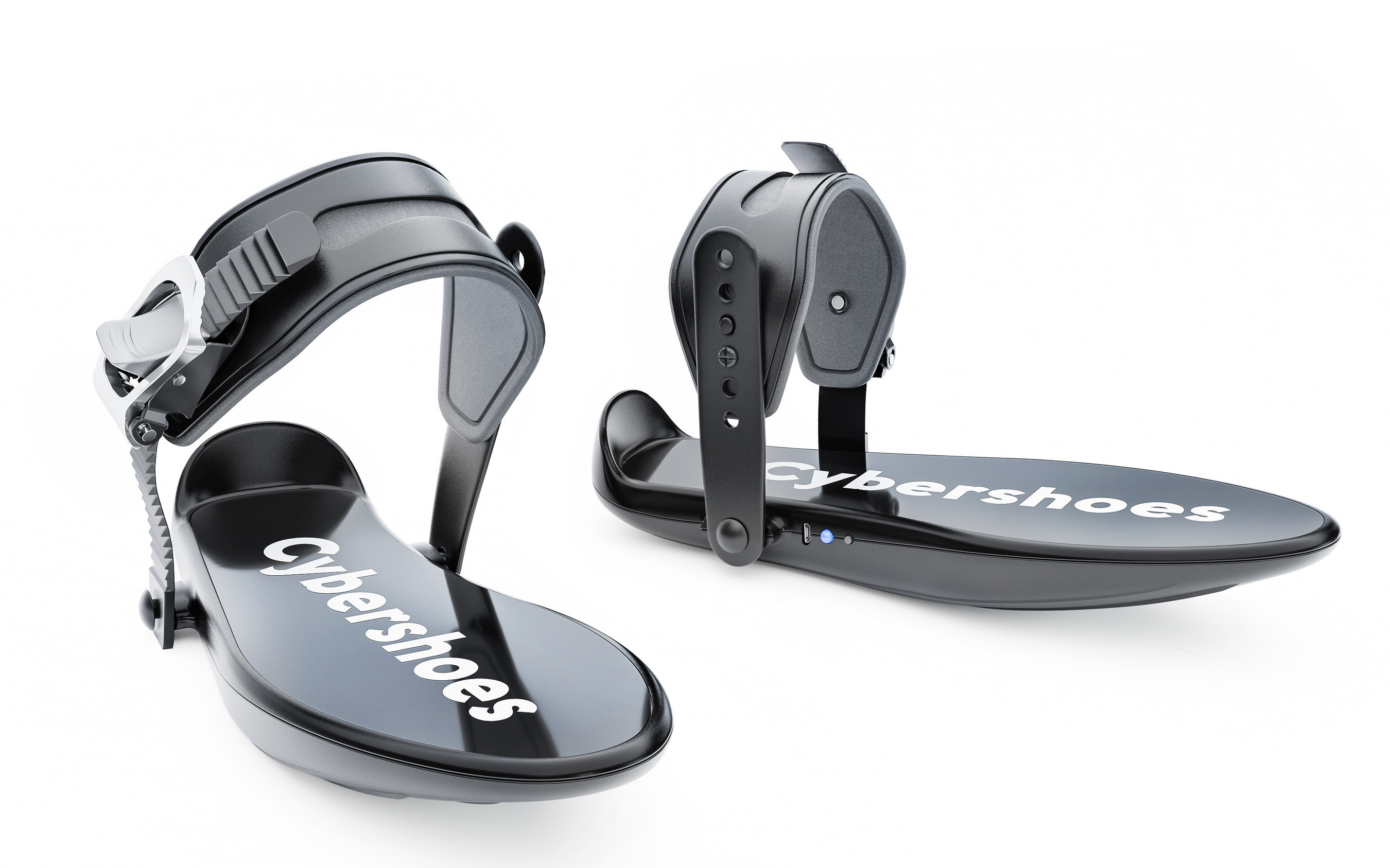 The design is simple and functional and it integrates inside-tracking with analog movement detection. While you walk, run and jump, the Cybershoes remember their orientation, enabling you to easily navigate your favorite games in a more natural way.
The seated position helps you forget there are any walls around you while at the same time succeeding at bringing your feet back into the gaming equation. We've spent decades moving through gaming environments using the same limbs we use for everything else in the game. Imagine the gameplay possibilities when you and developers can count on all your finger arsenal.
Game-agnostic Goodness
You can use the Cybershoes in any VR game and with most headsets. SteamVR, HTC Vive, Oculus Rift and Quest are all among your options. You may have to go through Oculus Link, Virtual Desktop and Oculus store games, Windows Mixed Reality, and Pimax. In short, compatibility is not something you should be worried about.
Measure your gamer's workout
Following its recent CES Innovation Award recognition (Congrats, by the way!), Cybershoes announced an exciting new feature. Users will now be able to track their physical activity and determine the distance of their virtual travels. This is obviously a big step in the right direction, providing even more motivation for gamers to actually use their lower body while doing what they love.
Adding Value to VR
The natural movement enabled by the Cybershoes makes for some next-level immersion. Including your whole body in the action will really help you identify with your in-game character on a higher, more physical level. And if you still haven't thought of "Ready Player One" for some reason, please do, and you'll agree feeling like you're part of the virtual world can be an incredibly thrilling experience.
If you try on the Cybershoes, which we highly recommend, obviously, something you'll definitely feel in the first few seconds will be your vision's independence of your walking direction. Thanks to some highly accurate motion trackers, you'll be able to fully observe your surroundings while you walk, run, duck, sneak or bend to pick up stuff off the ground.
For a few years now, Cybershoes have been trying to make walking in virtual reality possible and it seems they've finally succeeded. It is their belief and ours, that walking is the most fundamental way of accessing space. Virtual-reality content, such as ZenART VR, is obviously closely linked to this potential and we've often said that realism is what we're mostly after so our partnership with Cybershoes really makes sense to us.
Ultimately, Cybershoes transform the way users explore virtual reality but they plan to go even further in the future – to the fundamentals of Man-Machine Interface. Fingers crossed.